Divetrips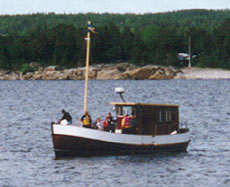 The waters around Sundsvall offers unique diving and dive sites are many.
During the entire summer, with start in may, we do day-trips with our boat BRIS. One and two tank dives including lunch.
If you prefer to rent your equipment our Diveshop can help you.
How may a day with BRIS look like?
At 08.30 we meet in the harbour and pack our stuff in the boat.
At approx. 09.00 we leave and between 30 min and 3 hours later we reach the first dive site of the day.
Coffee and tea is served during the trip.
In between the dives we serve lunch. You won´t be hungry afterwards!
The second dive is made at a new dive site in a different location.
Back at the harbour between 3 p.m. and 6 p.m. depending on the dive sites and the weather.
Of course we perform all dives with the highest amount of security possible!
That in combination with good service ensure that you will be satisfied with the day and something you would like to experience again!
Something extraordinary!
Price: one tank: 200 SEK, two tank dives: 450 SEK
Upon reservation you are obligated to attend when others will suffer from your absence.
See our dive-schedule for divetrips both from boat and land.
Phone or click here to make a reservation or submit an inquiry.
Have no buddy? No problem, we'll fix that!
WELCOME!